ArcaOS 5.0 Russian
Russian ARCAOS exists and it's available since the middle of 2017. All versions are supported: 5.0, 5.0.1, 5.0.2.

eCo Software is able release OS/2 LIP packages for any other language (German, Dutch, Brazilian Portuguese, Spanish, Sweden, etc)
How To Arrange your photos ?

TITLE: How To Arrange your photos ?
DATE: 2001-10-03 20:20:28
AUTHOR: Andrei A. Porodko
Please use online translator
go to http://translate.google.com
and request the translation of http://en.ecomstation./showarticle.php?id=28
to your language
This is not a full-text article, this is just a short note as a Linux "How to" ;-)
You have got a digital camera (doesn't matter whether it's supported by ThirdEye or not :-), and you've already taken tons of pictures. It is a common problem, isn't it ? Even if you had enough time to sort them into different folders, you'll face another problem of how to look through them and then show them to your friends. This problem becomes more complicated if you decide to publish photos on your web-page. Windows users have plenty of tools for organising pictures in albums. I looked through some of them and found that mainly they do nothing except put pictures in folders and give them inscriptions.I realised that it would be convenient to keep albums in HTML format, so I searched for a proper tool and was successful. This tool is PPWizard - generic HTML pre-processor by by Dennis Bareis (dbareis@labyrinth.net.au, http://www.labyrinth.net.au/~dbareis/ppwizard.htm). It's difficult to imagine that a program with such name can be used as a photo-album organiser, but it can. I wrote an example of "Internet template" (in PPWizard terms). It can produce from pictures which are anywhere on your hard disk, some kind of html photo-album. You can look through this album locally via browser or put it into your web-page. Look at the screen shot below.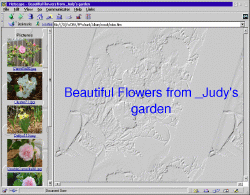 The most interesting thing is how you can add more pictures. You just put them to the directory and run PPWizard with this template again. You'll get new actual version of your album. I wrote a very simple template, because I'm not good at Html- and Rexx-coding. I dare suppose there are a lot of good Html- and Rexx- writers between our readers and they will create other templates (easier to use and more beautiful) and share them with other digital camera users on our site.
URL: http://ecomstation.ru/files/articles/photos/PPWizardAlbum.zip
Komentarze:
Bill
2001-10-13 17:53:11

Nice job for someone who says he's not good at HTML, etc. Your article doesn't make clear if it is shareware.
Bill